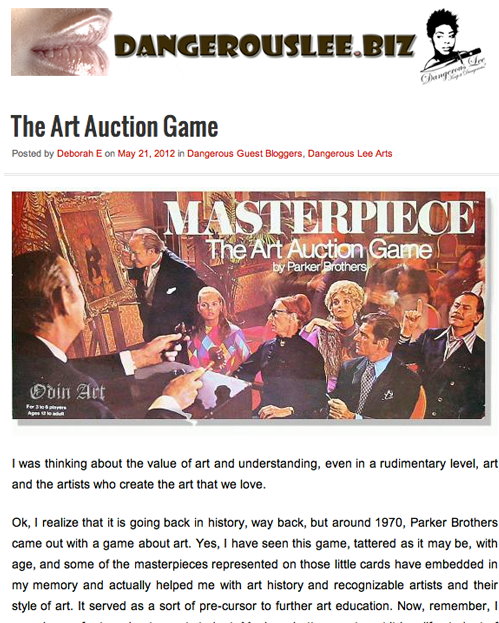 I was thinking about the value of art and understanding, even in a rudimentary level, art and the artists who create the art that we love.
Ok, I realize that it is going back in history, way back, but around 1970, Parker Brothers came out with a game about art. Yes, I have seen this game, tattered as it may be, with age, and some of the masterpieces represented on those little cards have embedded in my memory and actually helped me with art history and recognizable artists and their style of art. It served as a sort of pre-cursor to further art education. Now, remember, I am a lover of art, and not an art student. Maybe a better way to put it is a life student of art, and this game played a part, no matter how small, or how big, in that life study of art.
For more information, see this Wikipedia article on the Parker Bros, now Hasbro, Masterpiece art auction game.
There are some fascinating aspects of the game, including forgeries, interesting characters, experiencing the "art auction" and cards with pictures of famous (real) artwork.
I guess I didn't realize what value this game had until I started attending art auctions, myself, and frequently visited museums and I wondered how I recognized different styles of art and the "greats." Why? Because some game designer, "back in the day," had the foresight to create a game that was fun for kids, and educational at the same time, benefitting the child for years to come.
Now, I am on my way to search out other art education programs and games that open our children's eyes into the great expanse of creativity that they can see, hear, touch, and experience… this thing called, "Art."