Jane Fiala : Painting the Photo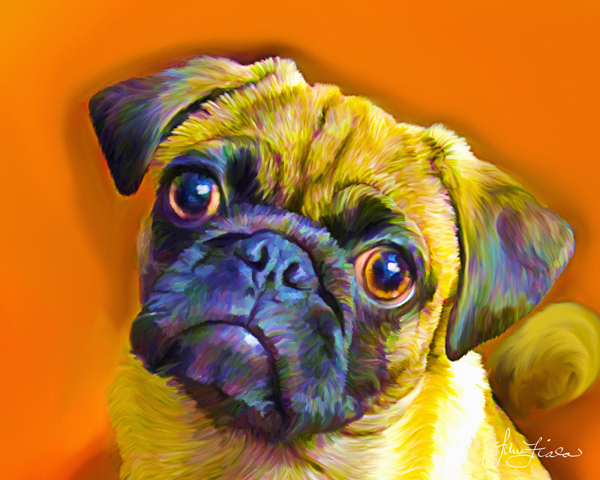 I remember looking at portraits when I was little and loving the colorful paint strokes. I was told that I was looking at photographs, but they looked so painted. Then, I learned that the photographer did indeed take a photograph and then painted it to "touch it up." Of course, this was way before Adobe Photoshop and digital photography. Gazing at Ms. Fiala's art reminds me of how much I enjoyed these photos when I was a child. But, I must say, Ms. Fiala's work exceeds even my expectations and I certainly enjoy gazing on them.
When did you first decide that you wanted to be an artist?
I don't know if there really ever was a moment when I made a decision to become an artist. It was actually something that evolved over time. I guess I'd always been somewhat crafty, but I'd never gone very far with it until I hurt my back. Up until then I'd been very active physically and an avid golfer. After I hurt my back, however, life, as I knew it was over. It was at that time that I picked up a paintbrush. I started by painting small pieces of furniture and glassware and began selling at art fairs and in shops. I then opened my own shop for awhile. I have since closed the shop but continued to learn new things; made jewelry and mosaics and became a fused glass artist.
It was with the advent of digital cameras that I had this desire to move forward. I loved that I could use a photo editing software to make changes, which morphed into digital manipulation and a bigger program, Photoshop. When I became frustrated at not being able to paint with my mouse, I asked for and received a Wacom graphics tablet for Christmas and purchased a painting program called Corel Painter. Voila, I'd found my passion and spent the next year learning everything I could about digital photo painting.
What was your first art creation?
I'm not sure I would call it an "art creation", but I would take small furniture pieces--sand them down and paint them using very whimsical paint strokes and colors--happy furniture it was called. It was nothing very artistic, but it was considered cute. But, what I did know was that I really enjoyed painting these pieces and it certainly filled the void of not being able to play golf and be the active person I used to be.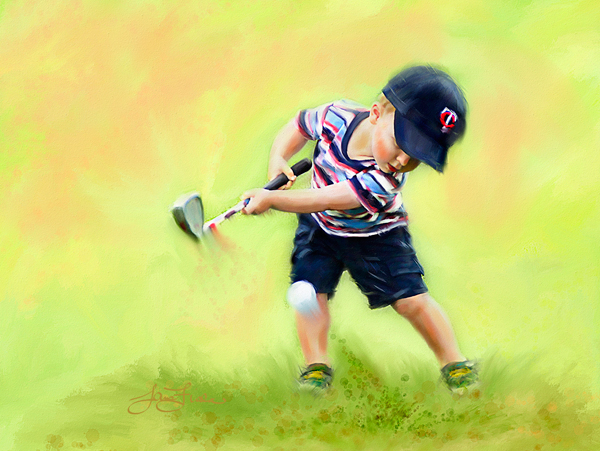 What was your first memorable art piece?
Hmmmm. I couldn't say what piece was considered memorable. The fact that I could actually produce something that brought a smile to someone's face was, and is, a memorable moment for me.
Please describe "A Day in the Life of Jane Fiala, Artist Extraordinaire."
I'm a fairly early riser and spend an hour having a coffee and reading. My dog, Callie, and I take a long, brisk walk--even throughout the cold, snowy Minnesota winters. Upon my return, I fire up my computer and spend a fair amount of time choosing the photo that I want to paint. This can be a photo that I've taken, or one that has been given to me to paint. I make most of my adjustments in Adobe Photoshop and may even combine several images, or parts of other images. I then move the image into Corel Painter and pull up my favorite brushes and begin painting. I will typically spend the majority of a morning and part of the afternoon painting, moving the image back and forth between these two programs until I'm satisfied with my painting. I then move the painting back into Photoshop one last time for final adjustments and a signature. I also save several different sizes and add textures for viewing on the internet. I tend to try to complete a painting all in one day, working until it's completed. Sometimes I have to close down and finish the next day, but typically I will work all day to complete a painting. I'm fairly compulsive this way. I will spend some time posting the image to the various online accounts and forums that I belong to or prepare to send them to the lab for printing. I don't, as of yet, embellish the canvas after it's been printed, but I'm thinking that it's the next logical step in my art.
What do you do with your art?
As I'm new to this type of art, I've had to learn a great deal about social media as a way of showing my work. I've recently started a blog that features my artwork. I have certain pieces available on FineArtAmerica.com. I've just completed my second commissioned piece and have also donated my work to a local charity. Part of the proceeds from the sale of my pet paintings on FineArtAmerica will be donated to local animal rescue organizations.
"I tend to try to complete a painting all in one day, working until it's completed. Sometimes I have to close down and finish the next day, but typically I will work all day to complete a painting. I'm fairly compulsive this way."
What are your plans for the future?
My plans for the future include continuing to build a body of work, hopefully accepting more and more commissions and, of course, always learning new things by taking workshops and online classes to keep me sharp and updated. As you may know, technology is always changing and programs are always being updated, so I need to stay up to date on all these things.



In the words of Jane Fiala, from her website, "I'm a wife, mother, grandmother, and artist. I work in several different media; glass, bead and metal jewelry, and digital painting."

Connecting with Jane Fiala :

Blog :
jlfiala.blogspot.com
FB Page :
facebook.com/jlfiala
Fine Art America :
fineartamerica.com/art/all/Jane+Fiala/all
Flickr :
flickr.com/photos/27915295@N05