Barbara Schreiber : Inspirational Greetings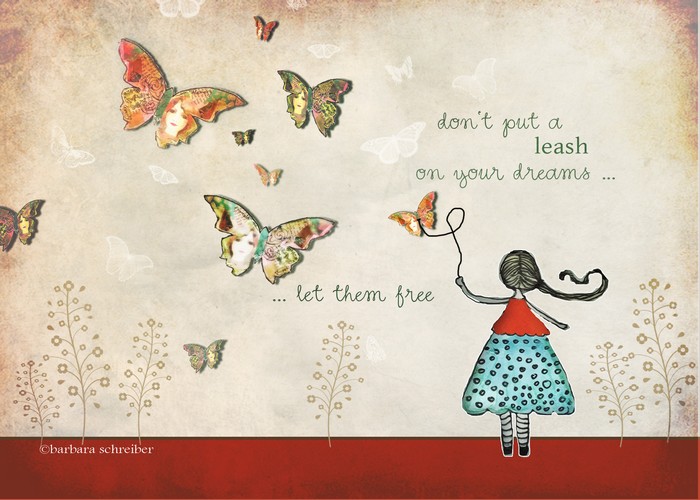 Ms. Schreiber is a delightful person (love her sense of humor and wonderment!), as well as a delightful artist. As with many artists, it was hard to choose which pieces to show in this interview! She excels in so many areas, that you cannot label her with just one. But then, as creative creatures, that is one of the aspects that makes us what we are.
When did you first decide that you wanted to be an artist?
I guess I started when I was 1 1/2 years old. My mother had this gorgeous red nail varnish filled in a nice bottle that came with such a cute little brush. My parents' antique wardrobe was used as canvas.
What was your first art creation?
In the beginning, as far back as I can remember, I have always drawn. First with pencils, then charcoal. Then came oil paints, acrylic paints, painting on silk, pastels, watercolor paints. Now it's mixed-media. I did pottery in between [those times].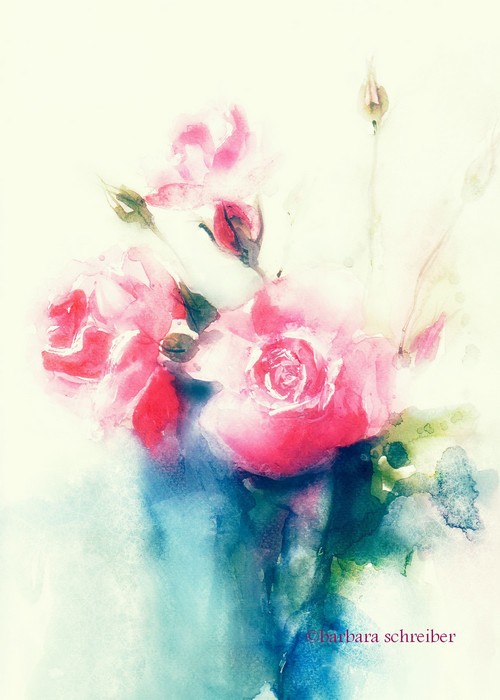 What was your first memorable art piece?
I never entered art shows, and I did not always like art in school. That's not because I don't like art -I just love it and am addicted to it - but because my teachers all seemed to like precise perspective drawing. That's just not my case, that kind of tight drawing makes me nervous. I do admire the work of other artists who can do precise drawing, though.
I sold my first drawing when I was 15 years old. I had developed a quite nice technique. I would draw with a pencil first (in this case it was a drawing of a pigeon with outspread wings), drip candle wax over the lines, burn a special kind of newspaper, and rub the ashes over the wax. Then I would scrape away some of the wax. Just like a scratch board, but different.
It looked pretty neat and interesting!
Please describe "A Day in the Life of Barbara Schreiber, Artist Extraordinaire."
I don't like getting up early, but I do. I'm a single mother and automatically get up when the kids get ready for school. At the moment I am recovering from chemo treatments so I take things very slowly. Since I have not yet gotten all of my energies back, I only teach one day a week. I also used to teach watercolor painting and mixed-media. I will start those classes again next year. I certainly do need that cup of coffee in the morning. Then it's off to the computer or I paint/draw.
I'm always in the mood to create. If I'm not in the mood to create, I surf the web and check designs, colors, styles, to get my inspiration going.
I do not respond to on-line contests.
My main problem is that I would love to do everything. I want to do serious fine art, and whimsical art, and just plain illustrations, and graphic designs, and I love making greeting cards, and selling them on-line. I like using traditional mediums and/or digital means. I had to give up pottery, because I did not have enough time to do the other things.
My household chores and all the other stuff all sort of fit in around art and creating. I'm not house proud but from time to time the kids and I get into the "let's tidy up and clean the apartment" mode.
What do you do with your art?
I used to sell my original paintings, but don't anymore. I now paint, draw, illustrate and mainly make greeting cards, which I sell online at Greeting Card Universe. I'm also on Zazzle, but hardly have anything in my store there. My Zazzle store really needs a revamp and a more modern/fresh look - something I plan on doing next year.
I would like to open up a shop on Etsy, but sort of balk at the idea of printing and shipping items myself.
I'm crazy about life, art - in every form and style - God, and my two kids - not necessarily in that order!
What are your plans for the future?
I plan on writing/illustrating a second book, a third book... or more. Just love it! For 2012 I have planned several mixed-media classes. And of course, I want to make lots and lots of nice cards. I do intend to do more illustrations and more whimsical things.
My problem is that I'm not a very organized person. I want to do too many things and don't have the time to do everything. I want to improve my technical skills, painting with traditional mediums, but I also want to learn more about Adobe Photoshop and Illustrator and make my own brushes.



In the words of Barbara Schreiber, from her website, "I am addicted to everything that has to do with art - especially watercolor and mixed media."

Connecting with Barbara Schreiber :

Artist Site :
www.greetingcarduniverse.com/barbaraswatercolorscardstore
Blog :
etoilesandfernweh.blogspot.com/
Blog :
barmarhedhof.blogspot.com/