Victoria Pendragon : Her Own Rules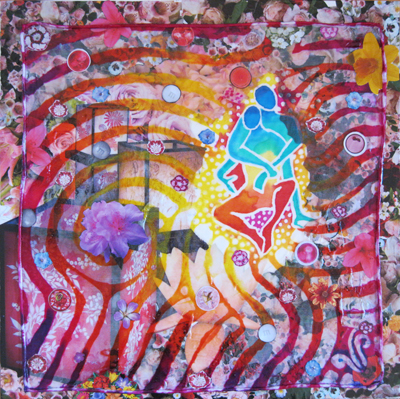 Ms. Pendragon marches to the beat of her own drum, creates her own path and follows it. I can appreciate her exploration of her art and her exploration of her life.
I couldn't help but chuckle when she mentioned the finger painting and still being able to smell the paint. Being a musician, rather than a painter, per se, fingerprinting is not something that comes to mind often, but I could actually smell it along with her! And, guess what, I had an urge to get my fingers in that paint and try it for myself!
Come, meet Ms. Victoria Pendragon...
When did you first decide that you wanted to be an artist?
I've been making art for as long as I can recall but it was my mother who was invested in the idea of me as an artist that brought me to become a professional. I have slides she took of my work when I was really small and she had me enrolled in Saturday classes at the Philadelphia Museum of Art as soon as they'd let me in. I actually wanted to major in English in college when I graduated from high school (as an art major, naturally) but my mother convinced me that "writers don't make any money and teaching is boring." Writers don't make any money, eh? Ah, well. Today I actually do both and have written four books, three of which I self-published, the last came out just this week, published by a "for-real" publisher. Later this year I'll have my first sole artist show. A banner year for me! And, only 40 years after graduation! LOL.
What was your first art creation?
Finger painting! I can still smell the paint!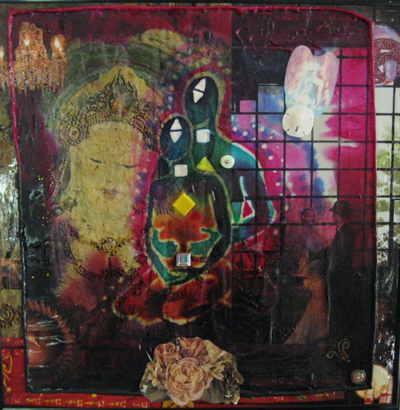 What was your first memorable art piece?
I have three pieces that still carry a lot of feeling energy around them for me, two created as part of my college experience and one about two years later and all for very different reasons. One, a balsa wood and silk thread construction, which was just exquisite, was smashed to pieces when my books flew off the car seat and onto it in a sudden stop. I was devastated. Another was my senior masterwork which was just huge and absolutely outrageous, a 4' x 8' wall of dyed pellon flowers that spilled out and screamed ME more than anything I'd done throughout the whole 5 years (I changed majors!). The other was my first sale, an old desk drawer that I'd transformed into a kind of cosmic metaphor for time passing. Sure do wish I had pictures!
Please describe "A Day in the Life of Victoria Pendragon, Artist Extraordinaire."
I do get up at dawn and watch the sunrise! Then I post my blog (I created a deck using collected snapshots and donated images), check Email, do yoga or pilates depending on which day of the week it is, have breakfast and spend the rest of the day alternating activities: creating art, writing, marketing, answering/sending Emails. The book I just had published is on a technique I invented. I have clients I work with utilizing that technique. It's all done via Email. Not a lot, but usually a daily presence.
What do you do with your art?
I'm very choosy about the contests I enter because my work is out of the ordinary. I won't waste my time just casting about. Most of the opportunities I submit to come from Professional Artist Magazine or Café.org.
Art and writing happen every day without fail. The nature of most of the art I create is such that there are a lot of natural break points in its creation – drying times, usually – and even though I usually have two or three pieces in the works, there's always space for the writing. Creating art is usually wildly invigorating for me. Writing just hurts my brain after a while.
I belong to two online galleries and display on my site. I enter shows that seem appropriate which narrows down the field quite a bit as what I do is very non-traditional. I live in the middle of nowhere and belong to the three art organizations that are closest to me, each of which is very different from the others. My art has been very much embraced by two of them but the other kind of holds me at arm's length. I particularly like going to that 3rd one just because I know my art makes them uneasy.
Every summer, in the nearby tourist town of Berkeley Springs, West Virginia, they have a recurring event called Art in the Park. I exhibit there regularly and at my community's music festival. I also seek out yoga studios that are open to doing shows. I have a series I call Yogis & Yoginis that is a perfect fit for more non-traditional studios.
Most of my sales are commissions. Because the work is based on the energy of and between people, when people are drawn to my work, they often want it to be all about them! I would too!
My FaceBook profile is all about my work. That's why I'm there. I don't have an 'artist' page, but, rather, I have a regular profile page. I love to interact![artInterview_linkReference01]
Ms. Pendragon marches to the beat of her own drum, creates her own path and follows it. I can appreciate her exploration of her art and her exploration of her life.
What are your plans for the future?
Whenever possible I don't make plans aside from "keepin' on keepin' on." I love what I do and I'll do it 'til I can't. I am lecturing at an event in Arkansas in July. The talk will be along the lines of personal transformation but I'll have some of my art there too!