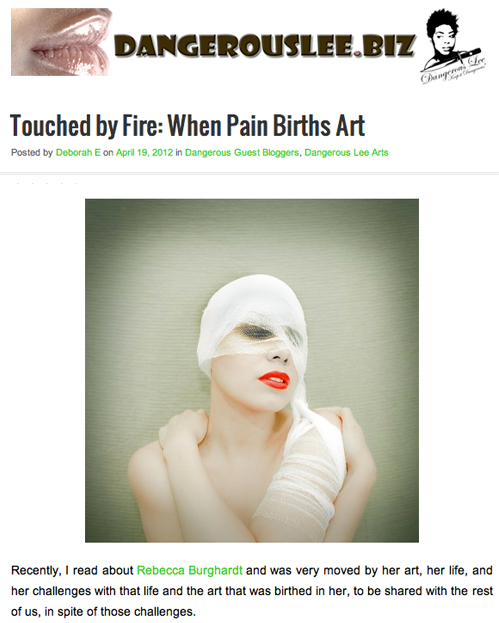 Recently, I read about Rebecca Burghardt and was very moved by her art, her life, and her challenges with that life and the art that was birthed in her, to be shared with the rest of us, in spite of those challenges.
I was reminded of a curator talk that we attended at the Los Angeles County Museum of Art a few years ago and learned about Salvador Dali. I will never forget a question from a group, asking about the pain in the lives of artist and whether or not that inspires their art even more. I have been keenly aware, ever since, of not only an artist's work, but their lives and what shapes them to be who they are, and, as a result, the art.
I have thought about that, especially, as a musician and writer. And, it is true, that, at my darkest hours, some of the most beautiful, sensitive, musical musings and expressions can be uttered. Sometimes they are just that, expressions of the art that flows within. In my case, it may be music, or writing, but in the case of these talented artists, it may be their paintbrush, it may be an expression that comes from their hands holding the moist clay and molding it into something beautiful.
In some cases, the creation of the art is not only an expression, but a way to self-soothe, even knowing that there is a pain and there are deep wounds that never fully heal, and yet, this pain creates the source from which even more art flows in an effort to find the soothing flow of relief from what tears at our hearts or souls. I wonder, if even the freedom from that pain, would not cause an emptiness as we seek to fill it with yet more expression of our innermost selves.
And, dear Rebecca, how I long to have known you, to have given you a hug and encouraged you. I know that you tried. You shared. You gave of yourself. And, in the end, there was no more that you felt you could give, to yourself, to relieve your pain. And, yet my dear, we will enjoy pretend to know you, forever, through your art, and wish that we could have kept you here with us, even one more day…
Please visit Touched by Fire to learn more about Rebecca and the "Touched By Fire" program to help artists who are struggling with mood disorders.