Susie Tenzer : Exquisite Expression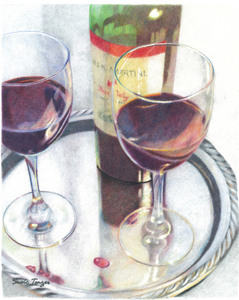 The moment that I viewed Ms. Tenzer's colored pencil drawings, I was intrigued. The exquisite flow drew me in and the detail of the drawings kept my eyes fixed on the artistic beauty of not only each work of art itself, but each fine pencil stroke that went into the piece. Gaze with me as you take in Ms. Tenzer's own description of her art and herself.
When did you first decide that you wanted to be an artist?
I went to art school many years ago, but took a different path when I got married, had children and taught school. After I retired from teaching I began painting in oil and acrylic but I wasn't satisfied with my work. About a year ago, I ran across some artists online who were working in colored pencil. I love to draw, so I bought a set of Prismacolor pencils on Ebay. I found a few books on colored pencil technique and began to practice. It didn't take very long for me to realize I'd found my niche!
What was your first art creation?
I distinctly remember making a clay duck in kindergarten and the teacher praising me. I've tried many different mediums throughout my life, including sculpture, printmaking, and painting.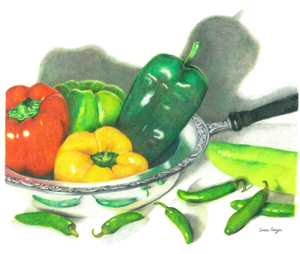 What was your first memorable art piece?
My favorite painting is always the one I've just finished. With each new painting I try to learn something, such as technique, composition, or mood. I want to learn and grow as an artist. One of my memorable art moments came with my first sale, a painting of a blue Mason jar filled with marbles.
Please describe "A Day in the Life of Susie Tenzer, Artist Extraordinaire."
I draw every day, usually starting early in the morning. An 8" X 10" colored pencil piece takes me about 50 hours to complete. One of my goals is to have enough pieces to sell in an art fair next Spring, so I'm trying to build up my inventory. I call them paintings, by the way, rather than drawings, just like pastel artists do.
What do you do with your art?
My work is for sale at Wood Icing Gallery in Chesterfield, Missouri.
The moment that I viewed Ms. Tenzer's colored pencil drawings, I was intrigued. The exquisite flow drew me in to look and study the beauty of her art and talent.
What are your plans for the future?
I'm currently promoting original custom paintings. I do custom house portraits and custom bridal bouquet portraits. House portraits make great gifts for realtors to use at closing or as housewarming gifts. A great gift for the bride is an original painting of her bouquet - something she can enjoy for years.



In the words of Susie Tenzer, from her official website, "I am a juried member of the Best of Missouri Hands (The Missouri Artisans' Association) and the Greater St. Louis Art Association. I am also a member of the Colored Pencil Society of America. These organizations promote excellence in the fine arts."

Connecting with Susie Tenzer :

Artist Site :
www.susietenzer.com
Blog :
susietenzer.blogspot.com
FB Page :
facebook.com/susietenzerart
Twitter :
twitter.com/susietenzer