Mary Nasser : Mesmerizing Media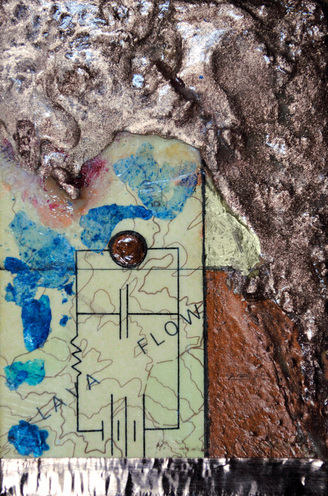 In gazing at Ms. Nasser's work, I am intrigued by the texture and depth of her work. Looking at her work on my computer screen makes me want to reach out and touch it! Of course, I would not want to disturb the artistic essence of her creations. Please, read here, and learn more about Ms. Nasser and her art.
When did you first decide that you wanted to be an artist?
I started making art as a child, and my mother was always very supportive and encouraging of my interest in art.
She would teach me some drawing processes (like portraits) and enroll me in additional summer art classes when I was young.
When I got to high school, I remember reading every library book on paintings that I could get my hands on. The painter who fascinated me most in my adolescence was Vincent Van Gogh. It was his passion, and evidence of that passion in his thick impasto strokes, that inspired me. I would run my fingers across the prints in the library books of his textured paintings – although only visual texture and smooth in the library books, I imagined his passion. I definitely did not have the greatest ability in art when the pursuit of painting really began engrossing me. But I did not allow what seemed to be a small ability stop me. I let myself be absorbed in the process, and engaged myself in painting as much as possible.
What was your first art creation?
My first art creation was when I was about 3. It was a crayon drawing on a large brown paper bag (the kind you get at a grocery store).
I still remember it vividly. It was a drawing of a mouse with a red-and-white striped shirt! The drawing was from observation, from one of my toys.
My mother kept it because she thought it was so accurate!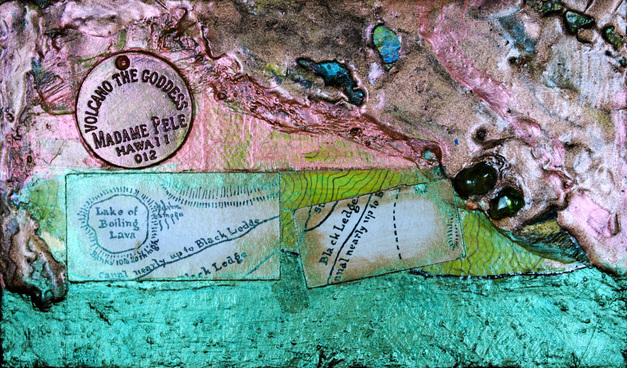 What was your first memorable art piece?
My most memorable art piece began recently.
In 2010, a jury selected my sculpture proposal for Wings in the City – a project to raise funds for the Jennifer and Jim Koman Expressive Therapy Program at Wings, a BJC pediatric hospice and palliative care program. My 5-foot by 4-foot fiberglass butterfly sculpture was entitled Journey and sponsored by Plaza Mercedes Benz. It was embellished with metallic acrylics and maps, much like my paintings. The butterflies were auctioned off May 21, 2011, at Wings in the City's "Art Takes Flight" auction. The public art project raised $1.3 million dollars for BJC's pediatric hospice program Wings.
Please describe "A Day in the Life of Mary Nasser, Artist Extraordinaire."
You will always see my most recent paintings featured online on my blog. Anyone interested in a piece can feel free to contact me. You can also find my work at Wood Icing, The Little Gallery at Art Saint Louis, Artlandish Gallery, and Etsy!
What do you do with your art?
[One example is that] I had a giveaway on my blog this spring, choosing a reader at random to receive one of my original paintings! I have donated work to various charities, too.
Looking at Ms. Nasser's art on my computer screen makes me want to reach out and touch it!
What are your plans for the future?
Recently, I had the privilege of leading another adult workshop in the David C. Pratt Cancer Center at St. John's Mercy Medical Center.The participants learned the process of reverse glass painting. This workshop was part of Healing Through the Arts – a series of free art workshops, hosted by St. John's Mercy Medical Center and St. John's Mercy Children's Hospital, designed to enhance healing for patients and their families.
At the beginning of May, too, I set the goal to finish and post one painting a week until the end of the year. I know there are artists who create a painting a day, and I admire them. But a painting a week is more achievable for me (with effort and commitment, of course!) – considering that I am still a newlywed and teach art full-time. Currently, my series of painting projects continues to be informed and inspired by Kilauea Volcano and the geology of the Big Island of Hawaii.



In the words of Mary Nasser, from her official website, "I am a painter and art educator living in the Greater St. Louis Area. I love creating mixed-media paintings layered with maps and geologic drawings."

Connecting with Mary Nasser :

Artist Site :
marycnasser.com
Etsy :
etsy.com/shop/MaryCNasser
Blog :
marycnasser.com/blog.html
FB Page :
facebook.com/MaryNasserArt
Twitter :
twitter.com/marycnasser
Pinterest :
pinterest.com/marycnasser/