Lu Robitaille : Aesthetic Appreciation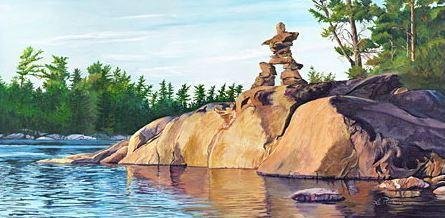 Ms. Robitaille art is engaging and stimulates the senses. The color draws me in, but also is so natural that it does create a desire, within me, to visit the location... as if I can feel and breathe the air, just by viewing her paintings.
Her talents are not limited to painting, but she also has a very expressive way of writing, complimentary to her fine art talent. Come, join with me, and breathe the air of the Georgia Bay as you view this beautiful artwork by Ms. Robitaille.
Hey, I'm looking forward to that coffee table book and biography!
When did you first decide that you wanted to be an artist?
As a child, I would sit on a stool for what seemed like hours watching a family friend painting landscapes. It was like watching a movie or reading a book.
My passion and love for Georgian Bay has spiraled from childhood. I couldn't get enough of it. I married a great man who was raised in the wilderness shores of its 30,000 islands. Together we drew the best from one another. While living in the quiet solitude of Tadenac bay that very dear old friend made his last expedition to our home at the Tadenac Fishing Club. He had given me one lesson before his passing and I, too, was hooked. My professional career began following our move to mainland. It was then, I truly realized the impact this vast, rugged, untouched diamond in the rust, had had on me. I, in turn, became the instrument in the big plan to share the story of the land, via my homespun music, visual landscape art, and poetry.
What was your first art creation?
Our family spent summer months at our cottage. I was the tomboy eager to discover hidden places with my two brothers. At 10 years old I found a cool piece of driftwood, sanded it and created a centre piece.
What was your first memorable art piece?
The art piece that brought me the most exposure was titled, "Spirit of the Bay." That piece of art attracted the attention of a sweet gentleman who belonged to a private club known as the Iron City Club. I was flattered to be invited to do a private show and even more so, to have sold the entire collection, save three.
Please describe "A Day in the Life of Lu Robitaille, Artist Extraordinaire."
In the wee hours of the morning, I wake with this incredible energy to write and create. It's almost surreal because I know it takes a set of hands to create, but on the other hand, I undoubtedly know it's a higher, more gracious power, that plants the seeds. I'm just the lucky recipient.
When not at shows in July and August, I spend many days on our boat, Spirit of the Bay. Much of the field work is done in the early hours of the morning and in late afternoon until dark. I kayak a lot and find mornings enlightening with a mood difficult to explain. The evening sun creates warm colours I often use in my work.
By summers end I have a pretty good collection of fresh and exiting photographs to study in preparation for commissions, private art shows and sometimes competitions. Once the boats are put up for the winter I begin to create and paint promised works and prepare for the Christmas season. Our winter light is short but after Christmas the days get longer, giving me the natural light needed to paint. Evenings bring hours of paper work, networking, marketing and framing. My framing studio allows me the opportunity to put, shall I say, the icing on the cake.
I love to sit and paint so much so that I don't hear the phone, the door bell. I burn a lot of potatoes that way, too! Hey, I'm in a world of my own. What else can I say?!
What do you do with your art?
My work takes me to about a dozen shows a year. I prefer private shows. I have my own home studio to showcase some work I do.
At the moment I am working on a new marketing project. I just completed a large number of decorative prints for a local motel known as the Midland Inn and Suites. I will be showcasing my work in their lounge and dining room and will be acting as their guest artist mingling with clients as a keynote speaker. I have 101 reasons why folks will want to return to Huronia and the gateway to our beautiful Georgian Bay. I also show and network with a great bed and breakfast known as "Tucked Inn the Harbour," The Township of Georgian Bay, and Wye Heritage Marine Resort and Art on the Hill.[artInterview_linkReference01]
Her talents are not limited to painting, but she also has a very expressive way of writing, complimentary to her fine art talent. Come, join with me, and breathe the air of the Georgia Bay as you view this beautiful artwork by Ms. Robitaille.
What are your plans for the future?
Over the years, I've collected a number of my poems that compliment some of my paintings. I have considered doing a coffee table book of my art and poetry combined. Although I have been approached to do a biography, I feel the timing isn't quite right. I have a few more years to learn, grow, create, and help more people before I share the story of life as an artist on Georgian Bay.



In the words of Lu Robitaille, from her previous main website, "A lifetime spent on the bay and "up the shore' has served as Lu's inspiration. Even as a little girl Lu noticed nature. She was inspired by the beauty of the Bay, its spirits, its stories, its spectacular scenery."

Connecting with Lu Robitaille :

Online Store :
shopmidland.com/lurobitaillestudio
FB Page :
facebook.com/Lu-Robitaille-Studio-448711151842179/
LinkedIn :
linkedin.com/in/lu-robitaille-86a19431/