Kylie Fowler : Blissful Pumpkin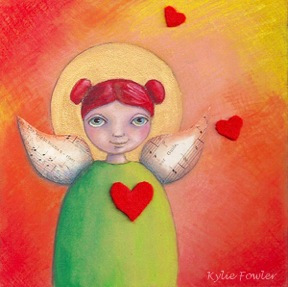 I love the name of Ms. Fowler's web site, 'Blissful Pumpkin." I couldn't resist using it in the title of her interview. But more than that, her artwork is to love! Who can resist the color and playfulness of her Angel painting, or the detail and depth in her portraits. And, this from such a busy wife and Mum! Where does she find the time? Gaze with me, at her art and the person behind the art, as she tells us a bit about herself here.
When did you first decide that you wanted to be an artist?
I cannot remember any time in my life when I didn't draw. So I guess it would be safe to say that I've been drawing all of my life. Drawing has always been something that I loved to do, but I never saw that it would lead to a career. It wasn't until I became a full-time mother, and particularly in the last 3 years, that I've taken my artwork seriously and have been confident enough to call myself a "portrait artist."
What was your first art creation?
I guess, like all kids, my first creation would have been a drawing for Mum or Dad. I've always drawn or doodled faces of some kind or another. I have a fascination with eyes. As they say "the eyes are the windows to the soul."
As a child I remember spending hours coloring in with one of my aunts and remember having drawing contests with my cousin, where our mothers would alternate who would win. My Mum would also copy cartoon characters for my brother and me. Another of my aunts was a great artist and I used to love watching her draw.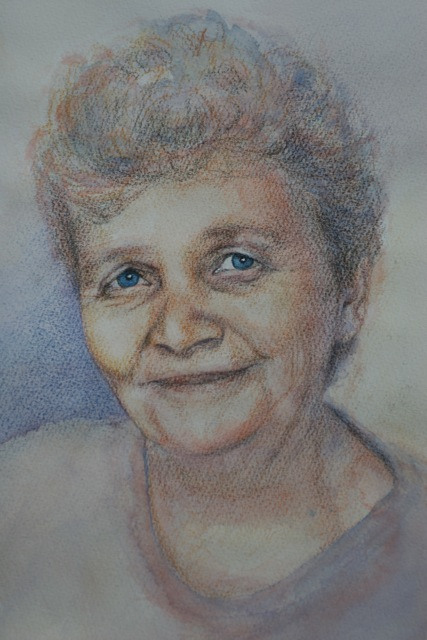 What was your first memorable art piece?
A couple of years ago I decided to attempt what I'd always dreamed of being able to do: Draw a realistic portrait. I drew my art teacher as I wanted him to critique my work and I thought to myself, "Who's face would he know better than his own?" He told me that I should do commissions. So from that day on I've been able to call myself a portrait artist.
Please describe "A Day in the Life of Kylie Fowler, Artist Extraordinaire."
Being a full-time Mum, my artwork is slotted in around my family and other household duties, so every day is generally different. Next year my youngest starts school, so things will be completely different from what they are now. One thing that is constant is that every day of the week starts with a coffee, to kick-start my day. My weekdays start around 6.30am, with the morning rush of breakfast, getting kids ready for school, etc, after which I leave home to drop the kids off at school and Kinder (pre-school, which is twice a week). My days consist of all or some of the following: drawing on the blackboard for my son's class, once a week, for "the letter of the week," grocery shopping, household duties (eek!), blogging, artwork (if I'm lucky), working on my Etsy stores, preparing meals, etc, and whatever else pops up. On Thursdays I attend TAFE (Tertiary studies), where I study "Diploma of Visual Arts." I usually do one subject a year, to fit in around the family. This year I'm studying Printmaking.
I'm not very organized, so I don't have a regular routine and I find with a young one still at home, any plans I do have can change so easily.
In the evenings, after the "afternoon rush" (homework, dinner, bathing the kids, and clean-up) you will most likely find me drawing in front of the television (spending time with my hubby) or iPad, catching up on my favorite blogs.
What do you do with your art?
I work on commissioned realistic portraits and caricatures as they arise. I have two Etsy stores, one where I sell art prints of my whimsical and Christian artwork and the other where I sell my digitally created collage sheets. Most of my original artwork has either been sold, given away or is displayed all around my studio. If my daughter had her way, all of my originals would be covering her bedroom walls.
Who can resist the color and playfulness of her Angel painting, or the detail and depth in her portraits.
What are your plans for the future?
At the moment I have a few commission portraits to start, as well as completing works in my "printmaking" class. I am preparing for an art course, Life Book, that I will be guest teaching in next year, organized by the wonderful Tamara Laporte over at willowing.ning.com.
I have a few online courses that I have enrolled in that I need to do work for also.
Next year (2012) my youngest child starts school, so the year ahead is a mystery for me at the moment. I plan to keep studying at TAFE, probably more often, as well as spending more time creating work for my Etsy stores. I plan to promote the portraiture aspect of my business as well as some online teaching.
My dream is to work as a full time artist and be able to financially contribute to my family.



In the words of Kylie Fowler, from her blog, "First and foremost I am a mother of 3 beautiful children, the most wonderful job in the world. I am also a portrait artist who loves to draw and paint in a variety of mediums and try my hand at a variety of styles. I also enjoy sewing and producing mixed media artwork, so hopefully in the future I will produce more mixed media works of art. I am a person who loves to create."

Connecting with Kylie Fowler :

Etsy :
www.etsy.com/shop/Smiliepumpkin
Etsy :
www.etsy.com/shop/BlissfullyDigital
Blog :
blissfulpumpkin.blogspot.com
FB Page :
facebook.com/BlissfulPumpkin
Twitter :
twitter.com/BlissfulPumpkin
Flickr :
www.flickr.com/photos/kyliefowler/
Ning :
willowing.ning.com