Holly Marie Tourdot : Sleeping Dogs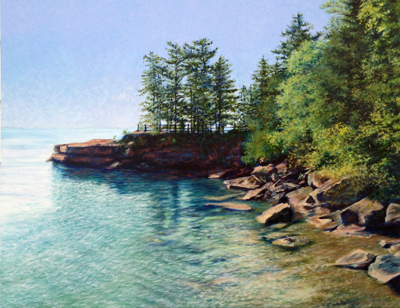 Ms. Tourdot's paintings are peaceful and yet emotion-evoking. I could gaze at them for hours, taking in the artistic way that she creates a movement in her paintings. And, yet a serenity, at times.
I enjoyed learning about Ms. Tourdot's routine, as well, not unlike the way I approach my art (writing and music), and appreciate what she says about her painting be an intimate moment, even though the next moment she can be a socialable as a social butterfly.
Come, meet Ms. Tourdot and her beautiful expressions of art.
When did you first decide that you wanted to be an artist?
I have been an artist for as long as I can remember. My first memories were of lying on the floor and drawing horses. I drew horses because I loved them and had little access to them, not from a desire to draw. Drawing was simply something I could do. Drawing or painting a thing is my way of loving on something that I can not literally embrace. I began drawing horses and moved to painting Stevie Nicks, my children, my neighborhood, my grandmother's windows, and finally, Lake Superior. I never decided to be an artist. What I did was accept that I was an artist, nothing else, and I try to make the best of it. I have found that accepting, and at times embracing, what I am cut out to be has given me joy. If I am to believe those who collect or follow my work, it also gives joy to others.
What was your first art creation?
My first creation was a drawing of a horse. So were the next 100.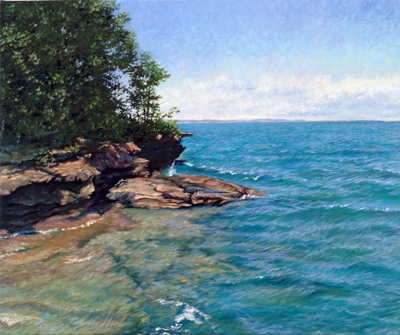 What was your first memorable art piece?
My first memorable art piece was a drawing of a bull elk and two elk cows in the woods. I was seven years old and I thought it was good. The adults around me made quite a fuss and my father sold the drawing to a co-worker.
Please describe "A Day in the Life of Holly Marie Tourdot, Artist Extraordinaire."
I am not structured whatsoever. I wake up and take my drugs (coffee and cigarettes). I try to ignore people, to do lists, and messes. When I am able to do this, I put on a story (audio book) and sit at my drawing table with pictures of Madeline Island's Sleeping Dogs. I paint until I can not keep my eyes open. I don't mean to sound like a recluse. When I am around people, I am very sociable, but painting is a very intimate thing and being interrupted while I am painting is a bit like being interrupted during sex. It is not something I will do, truly, in front of other people. Interactions with people will put me on a different wavelength and the love that compels me to paint must be rejuvenated before I can return to painting.
When I have done my best work, I have been in a routine, and ideally, I would like to return to that routine. I have had periods of time where I am not controlled by my addictions to coffee and cigarettes. During those times, I wake up early without an alarm and proceed as follows: I drink Water and do AM Yoga with Rodney Yee. I drink a SPIROLINA smoothie and take a walk. Paint for an hour or two and take a 10 minute break to clean a little bit or eat. Repeat all day and evening. Then, either go to sleep or go downtown and sing or go to the pottery studio and throw some bowls on the wheel.
What do you do with your art?
I show my work in the Bell Street Gallery on Madeline Island (La Pointe, WI Lake Superior) which is two blocks from my home and at Blue Lake Gallery in Duluth, MN.
I never decided to be an artist. What I did was accept that I was an artist, nothing else, and I try to make the best of it. I have found that accepting, and at times embracing, what I am cut out to be has given me joy.
What are your plans for the future?
I plan to get my work into galleries in Chicago, New York, Paris, Budapest, and Tokyo. Right now, I am working on my Sleeping Dogs series, my Precipice series, and the Madeline Island 2013 Calendar. I have published a Madeline Island calendar for the last 3 years and it is becoming a tradition. People call me months in advance to reserve their copy. I have been told that the 2013 calendar is the best yet! The Madeline Island 2013 Calendar can be seen at www.madelineislandcalendars.com (now redirects to her site, where the image of the calendar is shown on the home page). Please see any link(s) in the "Connecting" section at the bottom of this interview; located under the relevant link reference(s).



In the words of Holly Tourdot, from her main website, "[I] was a law student at The University of Wisconsin School of Law when [I] visited Lake Superior for the first time. It changed [my] life in drastic and beautiful ways. Simply put, [I] fell in love with Gitchi Gummi (Lake Superior). Driven to express her passion, [I] began painting again after a five year hiatus, and discovered that other human beings enjoyed hearing [me] sing."

Connecting with Holly Tourdot :

Artist Site :
www.hollytourdot.com