Heather Haymart : Inspirational Indulgences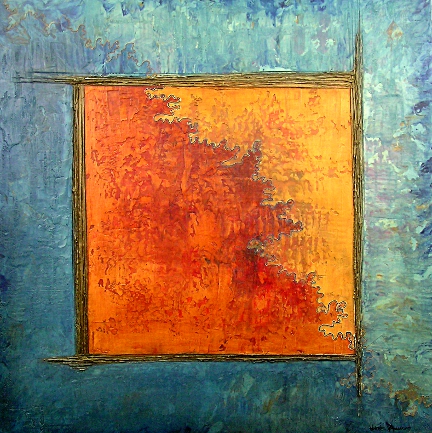 I am always amazed, when I view visual art, at how beautiful art truly is. It has been in recent years that my love affair with abstract art has grown. I suppose, if I liken it to my own art form (music), it is easier for me to understand. For, to me, music is like breathing and it is a continual flow of art. Ms. Haymart's art is nothing short of stimulating, and for me, as a musician, very inspiring. I imagine that many artists desire to go pick up their paintbrush and find the canvas when viewing art that moves them. I crave the feel of the keys beneath my fingers and the exhilarating sense that only the exhaling of music provides.
Thank you, Ms. Haymart, for this inspiration, today!
When did you first decide that you wanted to be an artist?
Creating art for me started when I was a child, because I would watch my mom create anything and everything. My favorite thing to do was to copy art from the front of greeting cards as soon as I could get my sticky little hands on them. This was my first realization that I could really draw. In addition to getting my fine art degree, I taught high school art after college which led me to painting murals for a short while, until I finally settled into my true passion; creating abstract paintings with texture. I really haven't looked back ever since.
What was your first art creation?
My first art creation was….I honestly can't remember. I have memories of coloring and drawing from an early age, but I don't remember what I made. That is pretty indicative of my creative process now. I am more interested in creation than the end product most of the time, because that is what is most enjoyable for me.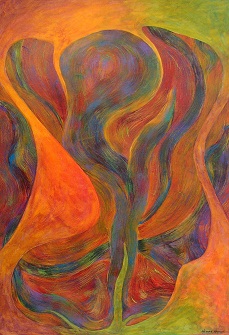 What was your first memorable art piece?
My most memorable piece of art is the second abstract painting I ever made. I was creating it in my basement studio nicknamed "the dungeon." I was completely overwhelmed by being a wife, homemaker, mural painter, and mother to a 3 year old and a 9 month old. I felt like there was no way I was ever going to overcome all of these obstacles (cute as they were).
When I was finished with the painting, I realized that the design that emerged from the paint was a very vague image of myself trying to read a book with many activities, voices and things floating all around me. I even created a new word for the title of the painting. It was called Obstaconcentration. I never sold it. It is still in my living room, because it was the first painting I made that gave me goose-bumps. I never want to forget that amazing feeling. It is when I realized that when I give myself over to creation, the paint and process will lead the way. This is why I can never stop creating. I am addicted to that feeling and the experience that comes with it.
Please describe "A Day in the Life of Heather Haymart, Artist Extraordinaire."
Right now, I have been dropping off my 7th grader at school most days and heading to studio. I love it, because it is peaceful and I have time to myself to be with my paintings. This is the closest to a dedicated schedule that I have ever been. It usually requires coffee and music or a good podcast to listen to.
What do you do with your art?
I sell my work in a multitude of ways; online, in galleries, and at art fairs. I currently own my own gallery called Wood Icing. My mom is my partner. She is the creator of Wood Icing (the texture product) so that is the name of our gallery. We naturally came together to have this business because I use Wood Icing in my paintings for texture. I was the first artist to ever try this product and now artists all over the country are using it. Crazy thought, huh? Anyway, our gallery has a unique business model that enables very talented local artists to exhibit/sell their work, and we have a studio/classroom where we offer a variety of classes and this is also where my studio is located. Running a gallery is hard work, but I love it. I am learning so much and I get to work with super artists every day, and my mom, whom I adore. It keeps me inspired and social; something easy to let go of when you are hiding away in a studio all by yourself all of the time. Besides, there is really nothing cooler than being able to finish a painting and hang it on the wall in a gallery all in the same day!
"I choose to work as an abstract artist because I love the idea of deciphering what a person is saying when they use color and texture as a language. It is such a great feeling when someone can "read" what I am expressing in my painting based on intuition and instinct" - Heather Haymart.
What are your plans for the future?
Sell my paintings so I can keep making more paintings!



In the words of Heather Haymart, from her website, "I choose to work as an abstract artist because I love the idea of deciphering what a person is saying when they use color and texture as a language. It is such a great feeling when someone can "read" what I am expressing in my painting based on intuition and instinct."

Connecting with Heather Haymart :

Artist Site :
www.heatherhaymart.com
Etsy :
etsy.com/shop/heatherhaymart
Blog :
heatherhaymart.blogspot.com
Gallery :
www.woodicing.com
FB Page :
facebook.com/woodicing
Twitter :
twitter.com/heatherhaymart
Pinterest :
pinterest.com/heatherhaymart/