Nina Weiss : Diligent and Disciplined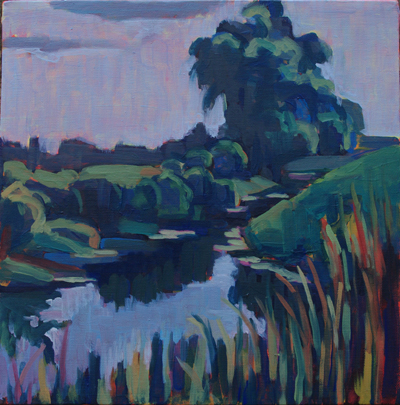 Ms. Weiss is quite the artist and teacher and all around art entrepreneur and motivational, inspiring woman. What I realized, in this interview, is how diligent and disciplined she is. That does not detract from the beauty of her art, but rather enhances it, as she exercises, in the same way that an athlete would, for a big game. She does not site back and wait for it to happen, but rather disciplines herself to take the steps to allow it to flow through her, and then, in turn to teach her students what she has learned in life, and in art.
As a musician, I am inspired to ensure that I don't just "wait for it to happen," but work at my craft, my music.
When did you first decide that you wanted to be an artist?
I decided at a very young age. My first formal art lessons began when I was eleven and continued on until graduate school.
What was your first art creation?
I remember drawing murals on the floor in crayon with my dad. He would bring home rolls of paper from the medical center where he worked.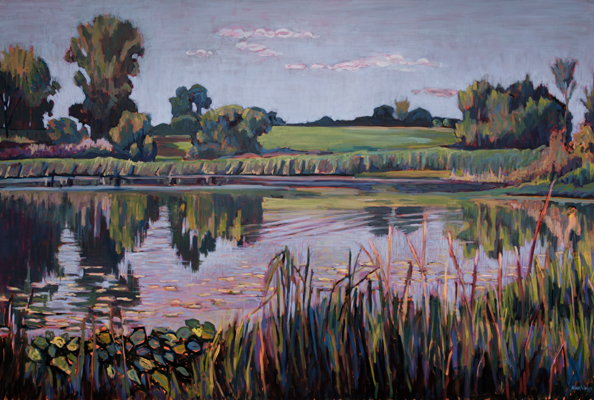 What was your first memorable art piece?
One of my drawings was published in Manhattan's "Art Students League" when I was thirteen.
Please describe "A Day in the Life of Nina Weiss, Artist Extraordinaire."
I have always been very disciplined about my studio time. If I'm not teaching that day, I will be in the studio from about 11:00 a.m. until 2:00 – 3:00 p.m. I used to get an earlier start, but now I go to the gym first. I consider art my "work," so I can't always wait for inspiration to strike. I find the best way to approach this kind of sustained creativity is to have a schedule.
What do you do with your art?
I have been represented by galleries for about thirty years. I also work with art consultants, designers, and private collectors. My work also has a good online presence. I have my own website and a teaching website. I am also on several other websites, such as Fine Art America (where people can order prints), Chicago Art Leasing, Chicago Artist Coalition, and others.[artInterview_linkReference01]
"My work draws the viewer into a heightened vision of gesture and hue, depicting nature with colors that are intense, lush, and dramatic. The work goes beyond traditional ideas of a green landscape. I tease out the complex colors of nature, creating layers of contrast, line, and form."
What are your plans for the future?
My work is represented by the Illinois Artisan Program. I currently have a show up at the Illinois Galleries & Museum, at Rend Lake. I just finished a new series of drawing for the Illinois State Gallery at the J.R. Thompson Center, Chicago. I also just finished a wonderful project consulting for the Prismacolor company, helping to design a new product for which I also did the cover art. I shot an instructional landscape drawing DVD for Prismacolor that was included as a bonus in tins of colored pencils. The DVD is now on my website and YouTube. My work is featured in their new watercolor pencil brochure. I just finished the playing card representing the state of Illinois for a new National Playing card deck by the company "Art in Hand," soon to be available in retail stores. My work is featured in a book coming out this Spring, called, "100 Artists of the Midwest," by Ashley Rooney. I will be returning to Italy this time for my ninth year with my students on the "European Landscape Drawing & Painting Workshops" with Nina Weiss.



In the words of Nina Weiss, from her main site, "My work draws the viewer into a heightened vision of gesture and hue, depicting nature with colors that are intense, lush, and dramatic. The work goes beyond traditional ideas of a green landscape. I tease out the complex colors of nature, creating layers of contrast, line, and form."

Connecting with Nina Weiss :

Artist Site :
www.ninaweiss.com
FB Page :
facebook.com/Nina-Weiss-Landscape-Painter-215697508490300/
FB Profile :
facebook.com/nina.weiss.7
Twitter :
twitter.com/NinaDWeiss
Instagram :
instagram.com/ninaweisslandscapepainter