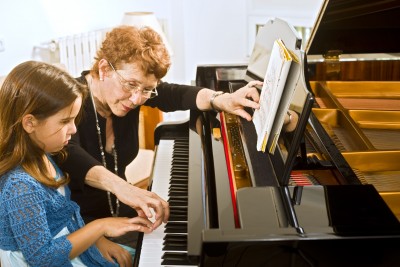 Being able to play an instrument is one of those skills that many of us would love to have. We are envious of people who can sit down at the piano and play a simple tune, or who can strum a guitar along to their favorite songs on the radio. Many people learn their music skills as a child, but it is never too late to learn and across the country there are people of all ages learning guitar, piano and many other instruments. But how do you go about finding a good teacher?
Recommendation
For parents looking for a teacher for their children, the best place to start is with other children who are learning too. Ask the parents if they would recommend the teacher who is working with their children, and if not, why not. It is also easier to talk to other parents about the teaching styles and prices of individual teachers than it is with the teachers themselves. Be aware though that good teachers with a high reputation are often full to capacity, and your child may have to wait several months or longer before a slot becomes available.
Shops
Most large towns and cities have a music shop or some description and this is often one of the best places to seek advice on tuition. For example, a guitar shop may well have a noticeboard full of cards from people offering to teach, and the staff in the guitar shop will also be knowledgeable about where to start looking for a tutor. Staff will also be able to give advice on buying an instrument for a beginner as there is no point investing several hundreds of pounds in a top of the range guitar only to find you do not enjoy playing it and give up after a few weeks.
Internet
There are all sorts of music websites online, from corporate sites aimed at helping you choose what brand of piano or violin to choose, to forums for learners and players of certain instruments. These forums can be particularly rich sources of information and advice, and people are more than happy to help a newcomer who shows an interest in getting involved with their favourite hobby. Some music teachers may also have their own websites, but personal recommendation is always better than picking a teacher at random from their website.
Ethos
Traditionally, most music teachers have taught towards the Grade exams. Learners start with the very basics and then take their Grade 1 exam, before progressing through the levels to the highest exam of Grade 8. However taking exams is not everyone's cup of tea, especially for adults who have left their school days far behind them. Some teachers prefer to teach exam syllabus only, and others are happy to teach in a less structured manner to follow the pupil's individual interests. Establish with your teacher at an early stage how the teacher prefers to teach, and make it clear from the outset whether or not you wish to be entered for the music exams.