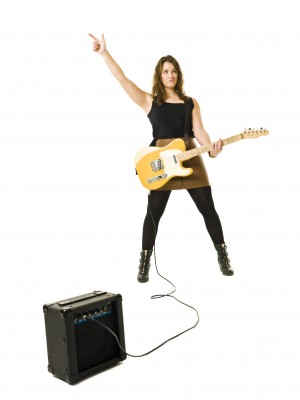 People from around the world grow up wanting to be many things. For some it might be a sports star, for others a model or designer, and for some the dream is to be a major music star playing to millions around the globe each year.
The thing with the last one is that anyone can pick up a musical instrument and learn how to play it. Being a rock star is a different thing altogether. We'll stop short of calling being a rock star a 'skill,' but there are definitely certain characteristics that it is important to demonstrate should you want to reach the top.
Follow Someone
Being a rocker is all about rebellion and the need to be different. However, when you're starting out it is important to model yourself on someone, without necessarily following all of their character traits. After all, there is a very fine line between being 'the next Liam Gallagher' and a 'Liam Gallagher wannabe.'
It is down to you to judge where the line falls, but as long as you're aware that you're treading between cool and foolish, you'll be fine.
Be Aloof
It is great if you're 'one of the people' and are always looking to get involved with conversations and parties, but it isn't doing you any favours when it comes to being a rock star.
There is a need to create an aura and mystique around you, and that won't happen if everyone knows you and you have an 'access all areas' approach to your own personality. However, this is only going to work if there's something interesting to discover about you.
If you're a bit of an idiot with not much to say about anything, it is best to get involved rather than make people think they're waiting for something amazing.
Be Good at Your Job
Is there anything worse in life than hearing you're a case of having more style over substance?
Unfortunately, this fate befalls many bands and budding rock stars at an early stage, so it is crucial that you are a decent singer, know your way around the guitar, or can play a ferocious drumbeat before starting to cultivate the rocker thing.
This harks back a little to the line between next and wannabe. Remember that it's better to be a great musician and be badly dressed – you'll probably become even more iconic if this is the case – than look great but not have a clue how to play.
Don't Fit a Stereotype
Many modern rockers and bands have been great for breaking the mould in terms of what we expect in terms of role models. You should take inspiration from that, too, and not think that to be a rock star you need to be a wildman, always pictured with a cigarette hanging from your mouth or wearing painfully tight jeans and a leather jacket.
Yes, you want to follow someone, but the important thing is to be you. At the end of the day, being the first someone is better than being the next, even if they were a legend.