Megan Petersen : A New Art Form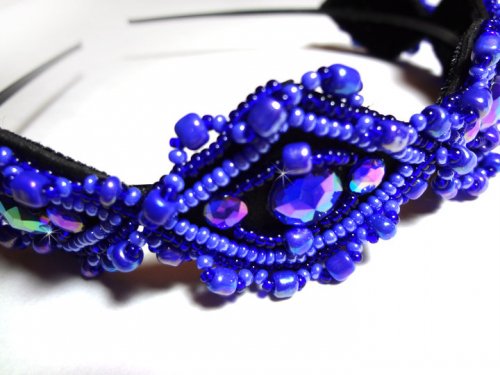 Art comes in many forms, and if you've been reading these interviews, you've seen the love of color. There is also the love of handcrafted jewelry. Today we have an artisan, having studied fine art in college, who has taken her gift of artistic expression and applied it to beadweaving. And, she has some pieces with pretty vibrant colors, as you can see in this photo. Ms. Petersen's enthusiasm about her art is contagious and makes one want to pick up the art, themselves, or go dust off the enjoyment of their youth and start creating something and expressing the art that is within themselves.
When did you first decide that you wanted to be an artist?
I've been beadweaving since I was about 5 years old, but I only started to seriously create my jewelry and accessories as an artistic and entrepreneurial venture a couple of years ago. The opportunities of selling online freed me from the struggles I've experienced dealing with local galleries in the past.
I've been artistic in other avenues as well. I'm a graphic designer by profession, and I went to college for my bachelor's in fine art. I love painting and drawing, but my beadwork has always called me back. It's my favorite way to pass the time, and I love that I can create pierces that people actually want to pay me money to create.
What was your first art creation?
My grandfather initially introduced me to beading when I was still pretty young. He used to do Native American style loom work. He gave me and my sister some beading books and supplies to start with, in beading. Form then on, the addiction never had a chance to let up and has been a fun journey.
(Those beads ought to have a warning label!)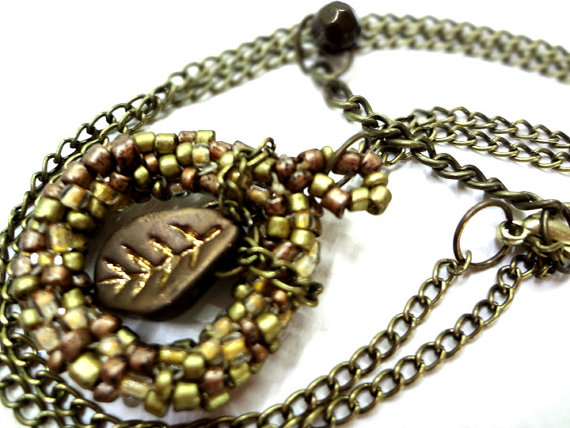 What was your first memorable art piece?
I loved making crazy complex creations when I was in middle school and high school. I loved seeing the amazement on people's faces when they saw them in the local gallery and found out a 14-year-old was the person behind the work. Getting that kind of feedback has really pushed me to continue throughout all of these years.
Please describe "A Day in the Life of Megan Petersen, Artist Extraordinaire."
I have a day job in addition to selling my beadwork, so on Monday through Friday I work from 7 to 4 creating graphics for my local school district. It's also a creative job, that I love, so I have no intention of quitting for my jewelry, any time soon.
I have found a balance between the two. I take some of my work with me to my job to work on during my lunch hour, and get started on it again as soon as I return home in the afternoon.
My weekends are usually spent creating, photographing my work, and writing blog posts to schedule throughout the week. I really do get to have the best of both worlds.
What do you do with your art?
While I do sell locally at consignment shops, galleries, and craft fairs, the bulk of my jewelry is sold online in my Etsy shops. It's such a neat feeling to be able to sell to someone who lives on the completely different side of the world, my pieces being loved on all corners of the earth.
My latest paintings have been of famous women, so when I find an image I like, I use it as a guide as I am painting. It's not my goal to perfectly replicate the image, but I do want it to come close and be recognizable as the actual person. I have recently began to sketch the images before painting them. I am still learning who I am and what my style is, as an artist. When I look at some of the first paintings of this particular series I can see my growth.
What are your plans in the future?
For 2013 I am planning on growing my business locally, as well as online. I have several new products lines in the works, that I'm excited about, as well as some helpful eBooks I'm writing to assist my fellow handmade sellers reach the levels of success they desire.
The future is exciting, and I'm enjoying every minute of my journey to reach it.
In the words of Megan Petersen, from shop, "I love playing with a variety of bead and color combinations, mixing different weaving and embroidery techniques. Each piece is so much more than its utilitarian purpose, it is also a work of art. (What's better than art you can show off to everyone by WEARING?!?)"

Connecting with MeganPetersen :

Artist Website :
megans-graphic-design.webs.com/fine_art_and_jewelry.html
Etsy :
MegansBeadedDesigns.etsy.com
Etsy :
Glamour365.etsy.com
Blog :
megansbeadeddesigns.wordpress.com
FB Page :
facebook.com/megansbeadeddesigns
Twitter :
twitter.com/glamour365
Pinterest :
pinterest.com/glamour365
Flickr :
flickr.com/people/megansbeadeddesigns/