Interviewing Xenia Sky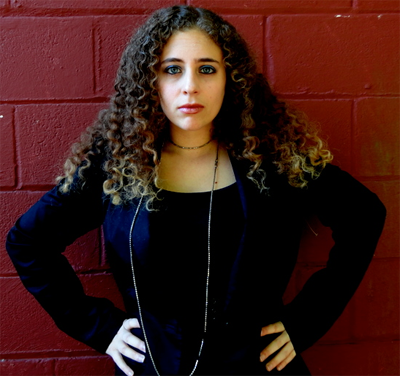 Listening to Xenia Sky is an experience. There is a raw edge, reminding me of some of the music that I love to listen to, from the 1930s and 1940s, when music was raw. Then, with "Adam and the Fire" in mind, a rock edge emerges and that toe tapping turns into a desire to move, and yet, at the same time, to contemplate the lyrics that Xernia Sky has creatively woven within the tapestry of her music.
Come, meet Xenia Sky.
When did you first decide that you wanted to be a musician?
I started singing and writing songs when I was 14. I never made the conscious decision to be a singer/songwriter, it just evolved out of one day picking up my father's stratocaster and putting words to a very sad melody. I can say that every time I tour or write it is a way of saying to myself "I'm going to keep doing this." I cant imagine doing anything else.
What was your first music production?
When I was 14 I went to an open mic at The Internet Cafe in Red Bank, New Jersey. I performed a song I had written called "Ghost" and that open mic turned into getting my first show. At 15, I went to record my first collection of demos in Upstate New York. It was called "Hearing the Image" and it was quite melancholy!
When I was even younger (probably around 5 or 6) I would make up dances and songs at my parents parties and perform them for all of the guests. I suppose I was always hungry to sing for people!
[singlepic id= float=center]
How about a memorable moment?
I'll always remember the first time I played at The Stone Pony in Asbury Park, NJ. I was probably 16 and snuck out to play this show. My friend Mark took me. I was opening for some reggae and rock bands. I played my set, and after I walked off stage a bassist from another band, Andy Rasmussen, approached me and told me that his friend Chase Kaplan has a recording studio and was starting a record label. Andy and I exchanged numbers, and in a few weeks I got a call to meet Chase. I went in and we instantly connected. I joined the label and Chase recorded my first full-length record "Way Back Home."
What does a "Day in the Life of Xenia Sky" look like?
My process is completely sporadic. The only part of my process that is regular, is that I never make myself write. I try not to set the intention of "this is going to be a song" so that things happen naturally and dont feel forced.
Right now my days consist of waking up, drinking coffee, going to school (I study poetry at The New School in New York) rehearsing, gigging, and coming home. I also like the throw in time with my dog, Lilly, who is currently staring at me wondering when I will take her for a walk.
What do you do with your music?
I am currently gearing up for my summer tour, which will start off in New Jersey and head to New York, Rhode Island, Massachusetts, New Hampshire, Vermont, North Carolina, Nashville, Kentucky, Maryland, Delaware, and then over to the West Coast.
My process is completely sporadic. The only part of my process that is regular, is that I never make myself write.
What are your plans in the future?
This summer I'm working on an EP with the producer and engineer Jon Ashley (Dawes, Azure Ray, Band of Horses) at Echo Mountain Recording Studio, a church-turned-studio in Asheville, North Carolina. I cant wait! It is definitely a dream of mine to record there and to make a record in a church (even though my mom is a Buddhist and my dad is a Jew which I guess makes me a Jew-Boo) I feel drawn to the organic sounds in churches.



In the words of Xenia Sky, from her Facebook page, "[I am] a New York based singer-songwriter who has been playing guitar and writing songs since [I] was 14."

Connecting with Xenia Sky :

Musician Website :
www.xeniasky.com
SoundCloud :
xeniasky
Twitter :
twitter.com/xeniasky
YouTube :
youtube.com/xeniamusic1