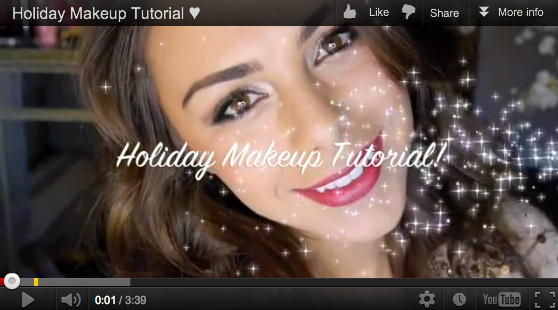 With the holidays approaching come holiday parties and events. Events where one wants to look their best. Part of looking your best includes looking like a celebrity without having to pay the price that a celebrity may pay to get it. Oh, it is true that many of us would love to be pampered and sit and relax with a glass of cool bubbly while the makeup artist performs their magic and makes us look like a million dollars, but many people do not have that luxury, nor the million dollars. And, with this economy, even those who do have the luxury may not want to spend excessive money on the holiday look when they don't need to spend that kind of money to get it.
Join Lisa Gibson at the #SocialCafe Twitter Chat on Wednesday, November 7, 2012. 3p EST / noon PST. For more information SocialWebCafe.com
YouTube how-to videos to the rescue. Lisa Gibson, a studio makeup artist that has that experience of making up the stars, has put together her three pics for YouTube videos to learn how to get that holiday look for your next event.
Ms. Gibson has been the makeup artist for many stars, so she definitely knows what she is talking about in choosing these videos. She has a list of celebrities that she has worked with and that list is too long to quote here, but she smiles as she recalls a time when she saved the day for Cher before Cher went on Live TV. It is this type of experience that has aided in Ms. Gibson's selection of these videos for you.
Many times, the client actually makes the application of makeup more complicated than it needs to be to accomplish the look that they want. Also, there is no reason why people need to pull at their face and manipulate their face in unnatural ways to look good. The makeup application can be accomplished even while being gentle with one's body. And, at the same time, having fun with the makeup application, especially during the holiday season.
There you have it. Three YouTube video pics by Lisa Gibson, makeup artist to the stars, as well as a former fashion model herself. You can save money on the purchase of the makeup, as well as the application of the makeup, by doing it yourself, with the aid of these step by step how-to videos on YouTube. And, with the close-ups provided by these incredible and talented artisans, you get a front row ticket that enables you to see it even clearer than television. It is like having a makeup artist teach you in the comforts of your own home. Ok, ready for that party?