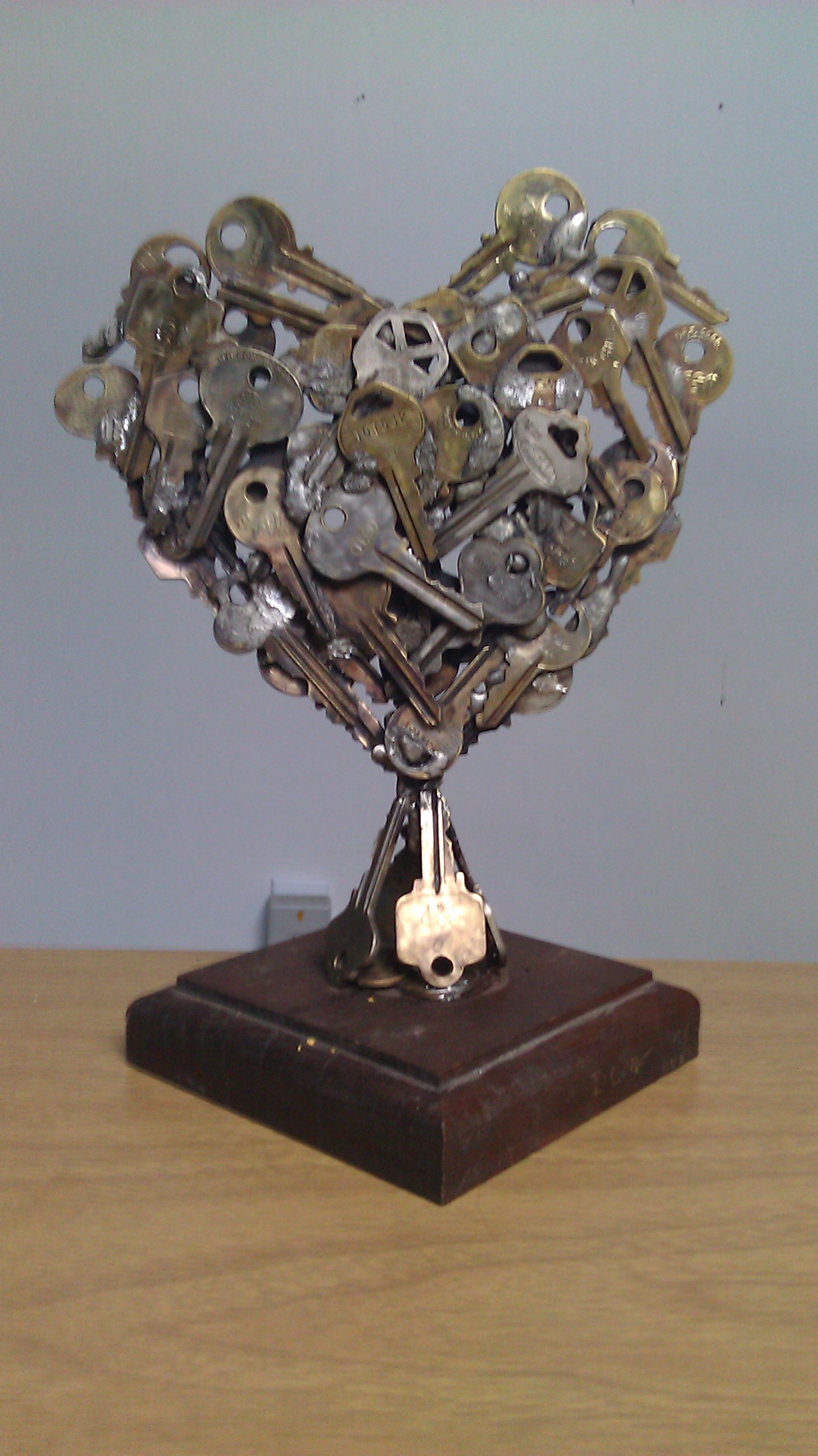 I have always been fascinated, truly fascinated, by the art that can be created out of other objects. I didn't know the term for it, necessarily, but I knew when I saw it. Hailing to us from the wonderful industrial city of Pittsburgh, comes Mr. David Calfo, giving us his own brand of salvage art and teaching this musician what the meaning of "salvage art" is and a bit of the process of the art.
I am so thrilled to be able to feature David Calfo and his salvage art, a mixture of art, history, and memorization of the past, in Mr. Calfo's creation in the present, for the future to enjoy and remember with us. Read and learn with me.
When did you first decide that you wanted to be an artist?
Though I have always been artistic all my life, it didn't dawn on me to pursue art as a career until I started working as a carpenter in my mid-twenties. Working to restore the historic Pittsburgh buildings that had fallen into ruin, I started to find all sorts of old artifacts that were too interesting to throw into a landfill. I began making art out of the salvaged pieces, focusing on Pittsburgh's industrial past. I first made these pieces for my own well being, but after my family and friends saw what I was doing, they encouraged me to pursue salvage art on a more professional level.
What was your first art creation?
Before I was a professional artist, the first piece I ever made that I was really proud of was in High School ceramics class. I made a sculpture of a tree from the Wizard of Oz that won second place in the school art show. This piece inspired me to continue with my art because some very serious artists, whom I looked up to and admired, expressed their enthusiasm and interest in my art, which was a major boost to my artistic development.
As an adult, the first pieces that got me on the road to salvage art were the Hallelujah Figures, a series of human sculptures I made out of railroad spikes that I found while walking the railroad tracks near my house.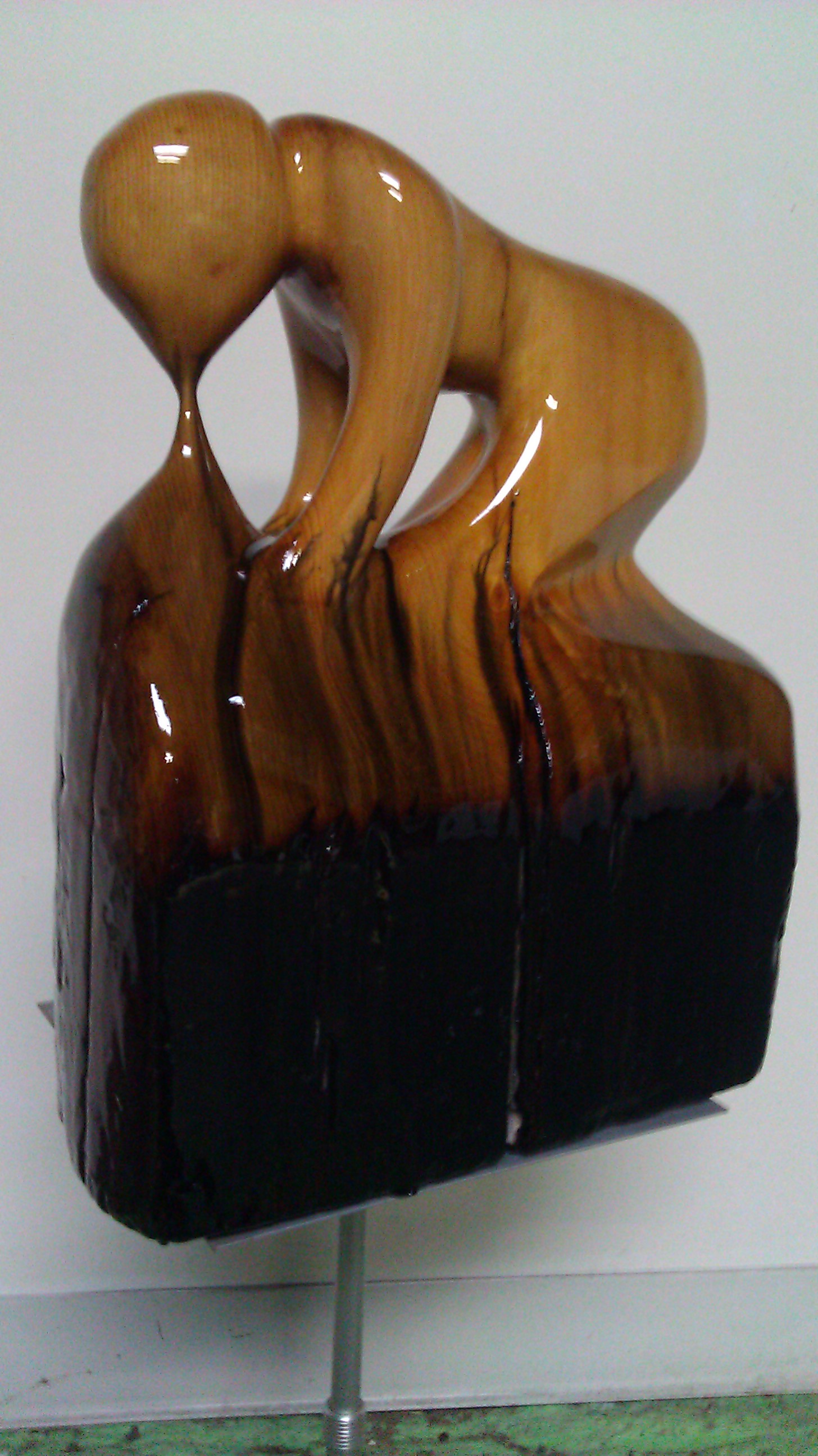 What was your first memorable art piece?
It would be impossible for me to remember all of the pieces of art I have made that were memorable or important to me at the time. One piece naturally leads to the next in terms of my artistic development. For the current phase of my life as a salvage artist, the piece that stands out in my mind is Solo Man, which is a hand carved human figure made out of hundred year old hemlock and covered in black resin. This piece was created for the Art Dimensions show titled Virtue and Vice, and this was my depiction of sloth. The piece came out so well that Art Dimensions decided to make me the featured artist for the show, which was the first time that organization had ever bestowed such an honor. Solo Man sold within a half hour of being unveiled, and its critical reception influenced me to do more work in the same vein.
Please describe "A Day in the Life of David Calfo, Artist Extraordinaire."
When I first wake up in the morning I need to feed my cats and dogs, and bring my dogs out for their morning run. In addition to being a full time artist I still also work in construction. If I have a construction job I usually try to work in the mornings so I can return to my art in the afternoon. After lunch I work on commissioned art pieces or other artworks that I need to get ready for a show. In the early evening I run the dogs again and try to work on any household chores I need to attend to. My home is located in a 10,000 square foot factory that I own, that also houses my workshop, my gallery and two rental apartments. With a building that large there is always something that I need to work on. But, no matter what I am doing in life, I am always thinking about my art.
What do you do with your art?
I try to display in as many shows as possible, with the ultimate goal of trying to sell enough art for me to live on. I sell art through my gallery and my website. A few local establishments such as bars and restaurants display my art for sale. On the side, I like to have guerrilla installations pop up around the city to showcase my art and ideas in unique environments that people don't expect.
Working to restore the historic Pittsburgh buildings that had fallen into ruin, I started to find all sorts of old artifacts that were too interesting to throw into a landfill. I began making art out of the salvaged pieces, focusing on Pittsburgh's industrial past.
What are your plans in the future?
I am in the process of creating a large enough stock of vintage bikes to open a storefront gallery featuring customized vintage rat bikes, vintage clothes and vintage jewelry. The custom bicycles I work on are built in the vein of old school vintage hot rods with custom metalwork, paint and pinstripes, all done by hand. They are artistic creations that are also fully functional as bicycles. The vintage clothes sold in my gallery are old pieces that are altered by artists in my neighborhood, and the vintage jewelry was handmade years ago by my friend's mother. I'm hoping that by combining old bikes, old clothes and old jewelry I can get enough foot traffic to expose my artwork to a whole class of people that wouldn't normally see it in a traditional gallery setting.
I will also continue to create art for shows and commissions, with the goal of entering into more prestigious shows each year.
In the words of David Calfo, from website, "I was surrounded by three generations... that worked in the local steel mills...steel runs strong in my blue collar blood... I found a certain beauty in the mills that,,,screamed of Pittsburgh's history and how it's shaping our future."

Connecting with DavidCalfo :

Artist Website :
www.davidcalfo.com
Twitter :
twitter.com/DaveCalfo
ScatnStyle
Welcome to the Art and Music blog of Deborah E!