Dave DeVries : Monster Engine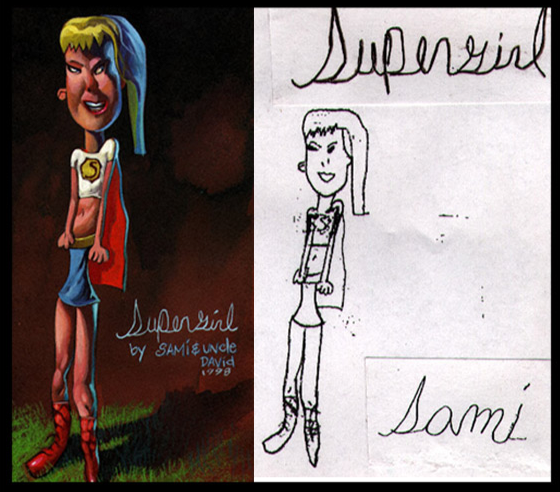 I have to admit... Ready for it? I wasn't originally drawn to cartoons of monsters and monster comics. I mean, I didn't even watch Monsters, Inc.! But, looking at Mr. DeVries' art is so fun. And, when you see the process and purpose behind it, it makes it all the more meaningful. Read with me, in Mr. Devries' own words, in this interview.
When did you first decide that you wanted to be an artist?
I knew at two key points in my life:
The first happened at age six. My brother, an artist himself at the time, who has since gone on to be a writer, locked me in his room and wouldn't let me out until I drew a picture from a photo. Up until then, I drew like any other kid and didn't really consider myself an artist. I protested, a lot, but my brother, nine years my senior, wouldn't let me leave. I was forced to draw members of the '72 NY Knicks (one of which went on to be an US senator) and by the time I was done my world view had changed drastically. I walked out of that locked room and knew I was an artist.
Then, suddenly, around 5th grade I didn't want to be an artist. At the time, I saw in my dad a growing disappointment with my brothers. The two oldest were not going to college (they eventually did go, and graduated). As a result, I wanted to make my dad happy, so told him I wanted to be a doctor. It wasn't a hard sell for me. I had, in the past, demonstrated a morbid interest in my own gore--stitches, I believe, from a bike accident.
Flash forward to 6th grade for my second epiphany. I had shown some drawings to a very gifted peer in my class who dismissively responded, "You call yourself an artist?" I was severely and quietly broken and stopped drawing altogether for about a year. However, in 7th grade, Aquaman came to my rescue. I had copied a Jim Aparo Aquaman cover. Suddenly, I was back on track. I knew the high pay and easy hours of a comic book artist were mine to grasp... ahem. The really sad thing was that I had to tell my dad I was picking a life that his engineering mind could not compute. I chose a restaurant to tell him... Let's just say he wasn't happy and that I chose wisely to air my intentions in a public place.
I started six months after college. I did, of all things, an Aquaman cover for DC in 1989 on spec. No contract just a shot at fame. ; )
What was your first art creation?
I have no idea. I just remember drawing The Flash a lot, inspired by the Filmation animated DC Comics shows from the 60's.
My first artwork was probably drawn with crayon or pencil. I didn't learn to paint till I was almost out of college. I was simply terrified of painting.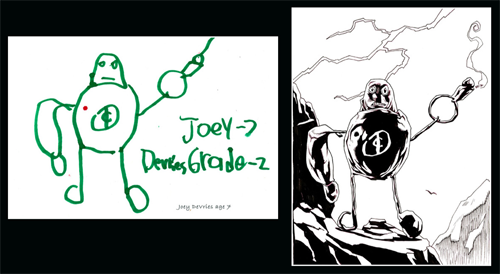 What was your first memorable art piece?
It was those Knicks drawings. I did a few presidential portraits that garnered a "My little artist" from my first grade teacher, Mrs. Blake. That was memorable because it was the first recognition outside my family.
Please describe "A Day in the Life of Dave DeVries, Artist Extraordinaire."
Lately, about three days per week, I put my kid to bed at night and then go directly to bed as well, around 10 pm or later. Then, I wake up about 3am and work on my illustration work till 8am. Then, I get my kid up and off to school. After that, I go to my steady day job working three days per week in an Arts Access program for the disabled, people with Cerebral Palsy, at Matheny Medical and Educational Center (see below for link, under "Gallery" in the "Connecting" section). I have two days off and on those days I wake up and get working till 5 pm when my kid comes home. I do work on weekends but try to do that at night. It doesn't always work out, as physically I can't always wake up. I found that every other day is best for the 3 am wake-ups.
I don't create art every day. Usually, and this has been from early on in my life, I create an image when motivated by an assignment, either one I create for myself or one from a client.
What do you do with your art?
I entered one contest. It was one similar to my Monster Engine project [and was entered into the "Worth 1000" contest]. [Webmaster Note: Unfortunately, when the Worth1000 site was acquired by Design Crowd, the link did not translate to the new site and after researching the new site, it appears that that content is not accessible on their site. As Mr. DeVries continues...] I had to enter that one! The painting was done already. Usually I cannot enter a contest because I do not have time.
My commercial work is all digital, Photoshop paintings, so I don't sell those, obviously. The one exception is a comic book character as I get to keep the painting and there is an aftermarket for that type of image. The Monster Engine work is all traditional and I do gallery shows with them. I just did a charity as well.[artInterview_linkReference01]
I have to admit... Ready for it? I wasn't originally drawn to art and cartoons of monsters. I mean, I didn't even watch Monsters, Inc.! But, looking at Mr. DeVries' art is so fun. And, when you see the process and purpose behind it, it makes it all the more meaningful. Read with me, in mr. Devries' own words, in his interview.
What are your plans for the future?
I am working on a graphic novel about The Monster Engine with no [scheduled] release date at this time.
We are currently working on an application for all devices that will enable anyone to "Monster Engine-ize" their children's artwork, plus a possible Monster Engine app just for the fans. We hope to have this out some time in the Spring of 2012. We are also in the preliminary stages of deciding on a possible documentary or TV series/movie based on The Monster Engine. I am doing concept art work for Activision with a June release date, which is all that I'm allowed to say due to NDAs. Additionally, I am creating art for ad agencies and, of course, teaching at The Fashion Institute of Technology in Manhattan.[artInterview_linkReference01]



In the words of Dave DeVries, from his website, "I've loved art from the time I was a little kid-- especially comic books. When I got older, I actually got a chance to draw my childhood heroes--and get paid to boot. It was a dream come true...I also painted monsters for Universal Studios, but those monsters weren't as cool as the ones I saw lurking in my niece's sketches. It was then, at age 33, that I decided to take all the lessons about color, action and detail and apply them to little kid's drawings. It made me remember my childhood and also realize that no matter how old I became I could always see things like a child."

Connecting with Dave DeVries :

Artist Site :
www.themonsterengine.com
Amazon :
amzn.to/377Sbzz *
eBay :
ebay.com/sch/i.html?_nkw=dave%20devries
Gallery :
msunotstock.blogspot.com
Gallery :
fitnyc.edu
Charity:
www.artsaccessprogram.org
FB Page :
facebook.com/TheMonsterEngine.DaveDeVries
Twitter :
twitter.com/DaMonsterEngine

Meet the Publicist: Denise (McDonald) Dorman, WriteBrain Media

Main Site :
writebrainmedia.com
FB Page :
facebook.com/writebrainmedia
Twitter :
twitter.com/writebrainmedia